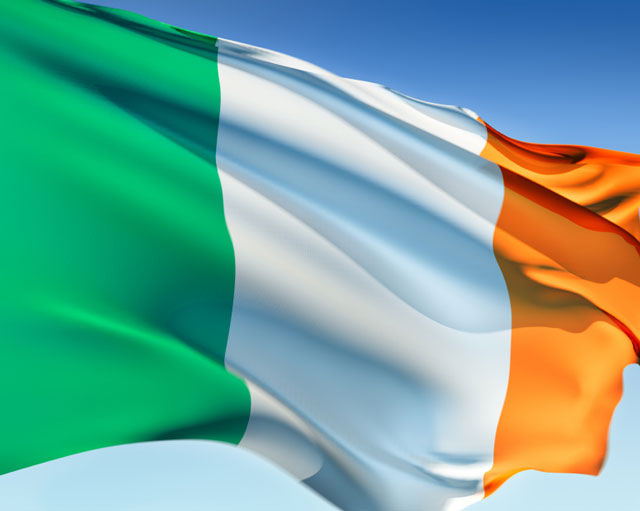 As for now, my Restoration Series of blog post is on hiatus while I focus on the tumultuous events leading up to the potentially disasterous March Elections in the Republic.
In the meantime I will be posting up new twists in turns in Irish politics, the possible socio-political implications of them, and I will post my final thoughts on the election results and what it means for Ireland.
After which I will measure up the State of the Irish Republic in the 21st century and how it measures up to its Constitution, founding principles, and how said constitution and legislative changes measures up to the often Neglected Irish Proclamation of Independence and the goals it has set in achieving Ireland's status as equal in the 'great family of nations'
Also for those of you who read my previous post on the implications of the Labour party's potential in Irish politics may be eleviated in recent turns in the polls have suggested Fine Gael may form a ruling party with only a handful of independents in co-allition. A surprisingly conservative move given all things. However I will direct you to my fellow blogger Mac an Ri's post over at
Scotic Monarchy
, regarding fine gael and the implications of Irish men being ashamed of their Irish-ness.
I will adress this concern also in later posts as well as a thourough look at availible Nobility in Ireland and how they can be intgrated into an Irish High Kingdom as an Addendum to my Restoration series. You may be surprised at what I can show you, so interested individuals may wish to watch for such a post in the near future.
For this post I will however, focus on Ireland's flag.
It has much been discussed, even in Republican Ireland, that the nature of the Irish Tricolour ultimately does not represent the ideals of the Irish Republic to begin with. To the casual observer, IE the one who is blind to the symbolism of most flags, their would seem nothing wrong with the Irish Tricolour, afterall it represents 'Peace between Protestants and Catholics' with its colours, and has influenced similar meaning in the flags of India and the Ivory Coast. What could there be wrong with it?
Quite alot as any monarchist would tell you. Or even, any Republican worth his salt could tell you.
It is no secret the Irish Tricolour is inspired by the French Tricolour. It is supposed to, asides from peace between the dominent religions of the Island, represent the ideas of the French Revolution, Egalite, Fraternite, Liberte. These are Jacobin Ideas, and while I have ranted how republicanism is utterly alien to Irish culture and spirit. Jacobin Ideas are, or should be, Anathema, even poisonous to the Irish spirit. And frequently often are.
Who are the Jacobins you ask? The Jacobins where a group of frenchmen with radical ideas, much more radical then their contemporary Revolutionaries and are famous for exacerbating the Revolution to its infamously bloody heights. In truth what the represented is a feotal and violent form of what has become a more mature and seductive monster: Secularism and with its twin, Totalitarianism. These were the Men who rabidly preached against Religion, tradition and culture, who burned down churches, hung priests, stripped paris of its Monarchical glory and even went so far as attempting to rename days, months, restandardise years, hours of the day, calenders street names, areas, signposts. In otherwords utterly revolutionize every aspect of France, even going so far as to attempt to implement a state sponsored religion that was at once rejecting God and attempting to deify the state. All under the name of Egalite, Fraternite, Liberte.
It was these men who influenced the french tricolour and set in motion the horrors of the French Revolutionary wars and the subsequent Napoleonic wars. Barely corrected by the Treaty of Vienna. And this was the flag and values the Irish Government sought to emulate under Republicanism?
I can only assume there was an element of Ignorence in the Young and vigorously authoritarian Irish Republic. (Lets face facts, the Irish Government and Irish culture in general suited an Authoritarian regime, even a democratic one, it is just a pity it was the stale Republican model, filled with ugliness) For any student of History will tell you the Catholic Church in Ireland was the State Religion in everything but name. Literally. It was nerly stated as so in the Constitution and the same Constitution still gives special place to the Catholic Church as the Religion of the Majority today. This alone puts the Nature of the Irish Republic at extreme odds with Jacobin Ideals for obvious reason. However, this is most likely the reason why His Holiness Pope Pius XII refused to Bless the Irish Constitution.
As well as this, and something which is pointed out in Scotic Monarchy, the Government also went out of its way to promote Irish speech and literature, a revised studying of Irish history and rigorous patronage of Irish sporting culture (which thankfully remains strong and which intrinsically is an engine of Irish Nationalism and Pride in return while remaining Apolitical) and attempt to perserve elements of Irish culture which had been dieing. This smacks of Traditionalism, another aspect which the Jacobins reject. Nevermind the fact that the Irish Republic, although reluctantly, instituted the Council of CHiefs of the Name. An extremely sympathetic nod to monarchism and Traditionalism.
And Egalite speaks for itself. When has any revolutionary country been truly egalitarian without making things worse for everyone involved?
With this one must consider the Distinctly Medieval, or should I say fuedal nature of all other Irish Flags and Emblems. One need not look further then the traditional flags of the Irish Provinces, themselves representitive of great Irish Royal Dynasties, Unions and History. And are themselves radically different to the National Flag On all counts. The Traditional Ulster flag especially.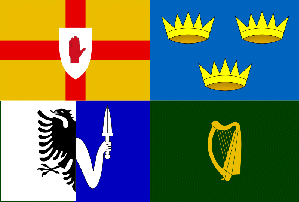 And this does not even touch upon the existence of Family crests, a distinctly medieval and traditionalist aspect of Irish Society, which every clan shares. Every single one. Nor the Existence of Lord Mayors. Not just mayors but Lord mayors. a hangover of British Occupation, but one which I have no qualsm with for the forseeable future. Even in the event of a Restoration, the existence of mayorships for towns and Cities being an elected office still sounds reasonable. ANd in my opinion thats were democracy should stay.
The only conclusion is this: The Irish flag, which itself is un-Irish in its inception, is un-Irish in its influence, it clashes with the rest of our culture and promotes an Alien Ideology, and a destructive cultural force that inspired it. It is irrepresentitive of its constitution of its current government and its people's culture and history. In fact its irrespective of the Soldiers of the original Oglah na hEireann and what the stood for (except for the Socialists). It has no affectionate nickname as other nations have for their flags, it is bland and uniform, and smacks of an Innate slave mentality and fear of Irish exceptionalism and Pride, it is anti-intuitive to progress for Irish society culture and politics. It cannot stay as the National flag should any restoration occur; primarily because it should not stay even under the current form of Government.